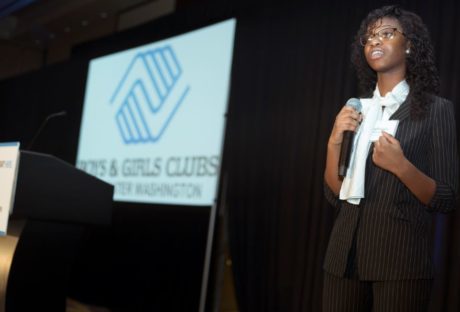 "Seeing hundreds of seats waiting to be filled by influential figures was intimidating at first," BGCGW 2018 Youth of the Year (YOY) Stephanie Owusuaa recalled as she mentally prepared to speak at the 14th Annual Youth in Real Estate Luncheon (YRE) last November. As the 2018 YOY, Stephanie was no stranger to sharing her experiences as a Club kid. However, this was one of the biggest events of the year, and she would address 900 attendees, people who have lived very different lives than her.
Stephanie, a 17 year old high school senior, has been a proud member of the Murraygate Village Boys & Girls Club for the past 11 years. Even though she originally lacked motivation and confidence to compete for the YOY Title, Stephanie's platform of "ART: Assertive, Resolute and Tenacious" was a sure winner.
Throughout the year, she experienced many firsts – one highlight was the opportunity to speak with notable adults. She met Dr. Johnetta Cole, the first female African American President of Spelman College. Spelman was a "reach" college for her, but after Dr. Cole heard her speech, she offered to write a letter of recommendation. Through BGCGW, Stephanie received mentorship and college planning readiness tools which will prepare her for her goal of becoming the first in her family to earn college degree.
Reflecting back on YRE, new possibilities, preparation, and self-reflection led to her big moment. As Stephanie spoke her first words, she could tell the audience was immediately hooked. "I watched their eyes sparkle as I told my story." BGCGW President & CEO Gabrielle Webster recalled feeling inspiration as she witnessed Stephanie command the crowd that day, and shared, "this is why we do what we do."
The 2019 YOY competition is underway!  Please join us on February 23, 2019 to hear the voices of our incredible youth at our annual event. The event is 4:00-6:00 pm in the Black Box Theater @THEARC. For more information and to RSVP please email Sylvester Owens.