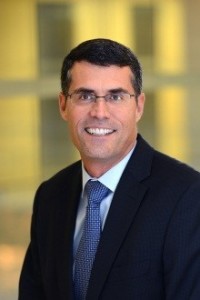 Together, the work we do at Boys & Girls Clubs of Greater Washington impacts more than 1,100 boys and girls daily across the metro area. It is volunteers like Paul Bakus that strengthen our programs designed to lift up those who need us most.
While Paul is new to Greater Washington he's no stranger to Boys & Girls Clubs of America. From 2010 to 2014, Paul volunteered in Chicago at the Off the Street Club House where he maintained the Club's bicycles. An avid cyclist himself, each summer Paul prepared over 100 bikes for the kids to ride.
Today, Paul is President of Nestlé Corporate Affairs leading their Washington, D.C. office,  and we're proud to have him join our wonderful volunteers at the George M. Ferris, Jr. Clubhouse 6.   Paul's been active from the start. In July, he was instrumental in organizing the Nestlé National Fitness Competition where over 100 Club members participated, ages 5- 18. The event featured fitness games, friendly competitions and high-yield learning activities while encouraging positive play, teamwork and healthy choices.
We asked Paul why he thinks BGCGW is an important organization for today's youth. He shared this answer:
"I'll always remember an experience I had in a Chicago club that particularly struck me. A BGC leader asked about 70 club kids how many of them had an immediate family member who had been shot. Over 70% of the kids raised their hands. That moment completely affirmed just how vital the Boys & Girls Clubs are to providing children with a safe and educational after-school environment. The Boys & Girls Clubs equip kids with the confidence and tools they need to thrive in any activity they put their mind to, whether academic or extracurricular."
The words of an excellent role model and mentor! Thank you Paul and welcome to Boys and Girls Clubs of Greater Washington!