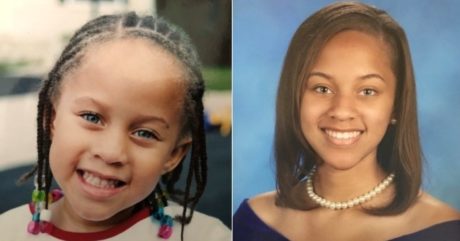 From our Hylton Branch to Cornell University, there's no stopping Destiny.
Destiny Malloy first attended BGCGW's Hylton Branch when she was just 11 years old. Her reason? Her father was deployed to the Middle East and her mother needed a safe place for Destiny and her sister while she worked. Hylton seemed like the best option because it was the closest after-school program to her home. You cannot ask for a better setup. Convenience is a huge piece of what we do, without easily accessible Clubs in neighborhoods with limited resources, many youth would not have access to the positive opportunities BGCGW provides. Our hope is to always be in the neighborhoods where we are most needed.
Growing up in Woodbridge, VA, Destiny had limited after-school options but Club staff like Ms. Roberta were there when she needed them. Every day, Destiny would get off the bus at the Hylton Branch looking forward to seeing her friends who she didn't see at her middle school. Hylton serves between 70-85 youth on a daily basis who come from different neighborhoods, schools, and backgrounds. Destiny loved getting to know diverse individuals from around the community. The friends she made when she first became a Club member became the friends she held throughout high school.
Each day when Destiny arrived, she would participate in her favorite activity: Power Hour. Before any other Club activities begin, Club members are required to participate in this comprehensive homework help and tutoring program. Doing homework with her friends made it fun and engaging. Destiny uses the positive study habits she learned in this BGCGW program towards her degree Cornell University to this BGCGW program.
Power Hour is not the only program that helped Destiny become the young woman she is today. In 2015, Destiny was named her Club's Youth of the Year. She went on to win the Youth of the Year for DC and Virginia State in 2017. Youth of the Year is Boys & Girls Clubs of America's premier recognition experience that aims to foster a new generation of leaders, fully prepared to live and lead in a diverse, global and integrated world economy. She recognizes "Team Destiny," filled with BGCGW staff, for helping her improve her character and leadership skills, providing an opportunity to showcase her leadership and service to the Club and community. The skills she learned in the Youth of the Year competition transferred to her school life. Destiny became engaged in high school politics becoming,  deeply involved with student council as Class President. Destiny has developed a strong passion for community service and mentorship that has followed her to Cornell University.
Destiny entered her first year at Cornell in August 2017 and plans to major in computer and information science. Destiny was first exposed to computer science during the Science, Technology, Engineering, Arts, Mathematics summer camp at Hylton. She started a coding program at the branch to get the other members involved in something new. She completed her freshman year at Cornell with a 3.7 GPA and a summer job. She credits getting her summer job to the character development traits she learned at her BGCGW Club. Destiny continues to accomplish her goals one step at a time with BGCGW staff always by her side.