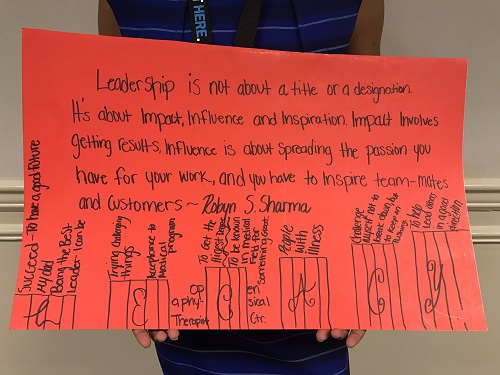 Keystone, a unique Boys & Girls Clubs leadership development experience, provides opportunities for young people ages 14 to 18 to focus on academic success, career preparation and community service. Teens throughout Greater Washington are encouraged to become active members in their Club's local program.  In an effort to collaborate with other "Keystoners" from across the DMV, a BGCGW Keystone Retreat was created.
On December 9, over 20 teens from Richard England Clubhouse 14 and FBR Branch attended the two-day overnight retreat at the National 4-H Conference Center in Chevy Chase, Maryland. This was designed to give members of our Keystone Clubs the opportunity to have a conference experience at the local level in preparation for the national forum.  Teens were able to engage and socialize with peers, explore relevant issues, and develop skills on how best to support their local Club.
The overall theme for the event was Defining Your Legacy.  Corresponding activities included sessions on creating Legacy Boards, The Power of the Teen Voice, Passport to Manhood and SMART Girls breakout groups.  One of main highlights of the conference was the "Drive Safe Driving and Know Your Rights" session presented by Community Outreach Officer Dana Stroman of the Montgomery County, 2nd District. She addressed ways in which the relationship between youth and authorities can be repaired. "We have to start with discussions and engage in conversations to see what the concerns are and where do we go in the future.  We have to talk to one another to move forward."
The group also had the chance to partake in a college tour of George Mason University.  While at the campus, the teens were each challenged to take on the Edge Ropes Course. Ranisha, a 15 year old FBR member said, "While doing the ropes course, I wasn't scared because I had confidence in myself that I could do it. Although I didn't climb all the way to the top, I was proud of myself because I tried something new. I left with the feeling of exuberance and adventure.  I felt like I had conquered something."
The retreat was a success and achieved its goal of bringing teens together and strengthening their leadership skills. This event is set to become one of BGCGW's most impactful annual training for teens.
Photo: Legacy Board created by Ranisha, age 15.