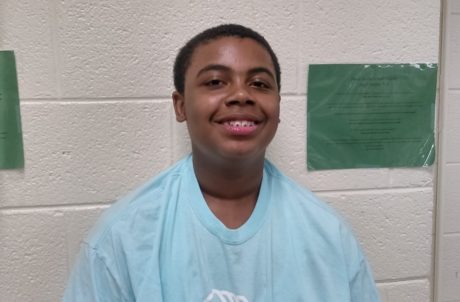 Drew Freeman Middle School Branch is unlike the other Clubs in the BGCGW network. It is based at a Middle School in Suitland, Maryland where all of the Club members attend school together. But that's not the only thing they do together! While at the Club, the members participate in academic activities, homework help, sports, and meals all as a group. One of those Club members is Malachi; a 13 year-old Capitol Heights resident who is currently finishing up his 8th grade year at Drew Freeman. Malachi has been a Club member for three years and says that he has a nice connection with the staff and enjoys interacting with them on a daily basis. Club staff play an integral role in the development of our members, like Malachi's admiration for Branch Director, Kamilah Wheeler. As Branch Director, Kamilah sees our members on a daily basis. She says, "Malachi is a prime example of being able to see the growth of the members. Over the last couple years he has developed into a mature young adult and that's why I do what I do."
During school you will find Malachi in his favorite class, English, reading a much loved nonfiction book. However, he tends to like the movies better than the books because, "The movies usually show different stuff than the book including the characters and their roles." Connecting to the characters in the book is much easier when they are portrayed by some of our favorite actors on the big screen.
When he's at home, Malachi likes to watch action movies with super heroes but his love for action does not stop there! Malachi is also a member of the Boys Scouts of America where he loves to go on camping trips and be outdoors. When he's not outdoors, you will find him at home with his dog Toy, playing or helping around the house.
Malachi enjoys helping in the community through BGCGW and the Boy Scouts of America. He likes to mentor the younger Club members and set a good example for those around him. Club members are charged a $50 annual fee, however the full cost annually to provide services for a member is $1,500. Since BGCGW will never deny membership to anyone who cannot afford to pay, we rely on the contributions from our generous donors to cover the remaining costs. Together, we can serve more youth, more often.