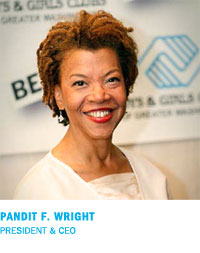 Spring. The calendar tells us it will come, it's on the way, it will get here!  Yet somehow, as we look out at one more snowdrift, it's hard to believe.

At BGCGW we are in the business of believing. Our spring started when a six year old Club member opened our Annual Meeting boldly declaring "I may be little but I dream BIG" before launching into the song, "I Have a Dream," written by our artistic director, Tony Small and recently recorded to benefit BGCGW by Tulani Jolley, Harpist to Lady Gaga.

We believe in the life-changing power of positive adults and consistent exposure to chances for knowledge and growth.

We believe in the gift of volunteering. This March we hosted the students from Break a Difference in partnership with the United Way National Capital Area, a novel and exciting way to bring college students from across the country into Boys & Girls Clubs and hopefully make them movement friends forever! Throughout the month these young people lived at our Richard England Clubhouse #14 in Ward 7 and the Dunbar Alexandria-Olympic Club in Virginia for the week of their Spring Break; performing community service and helping with Club activities during the days and evenings. Every week we received a new crop of students and every week the stories and memories grew. Please follow our blog and go to our Facebook page to check out their adventures. Our staff and Club members can't thank them enough.

We believe in the momentum we're achieving with new funders like Best Buy and old friends like Monumental Sports as we earn opportunities to serve our Members and communities. Via an extensive competition Best Buy chose FBR@theArc to be home to a new state- of- the- art teen tech center; Monumental Sports & Entertainment Foundation will once again fund sports programming with the addition this year of a girls' basketball league!  We believe in the survey results that show our members are focused on college and credit their Clubs with keeping them on track.

And we believe in our staff. This month we begin a regular feature sharing the story of an amazing staffer. BGCGW People are the number one intervention we have for our kids and teens. I hope that after reading the piece you will be motivated to come into a Club, meet the team and meet our members. You'll be a believer too.

Happy spring!