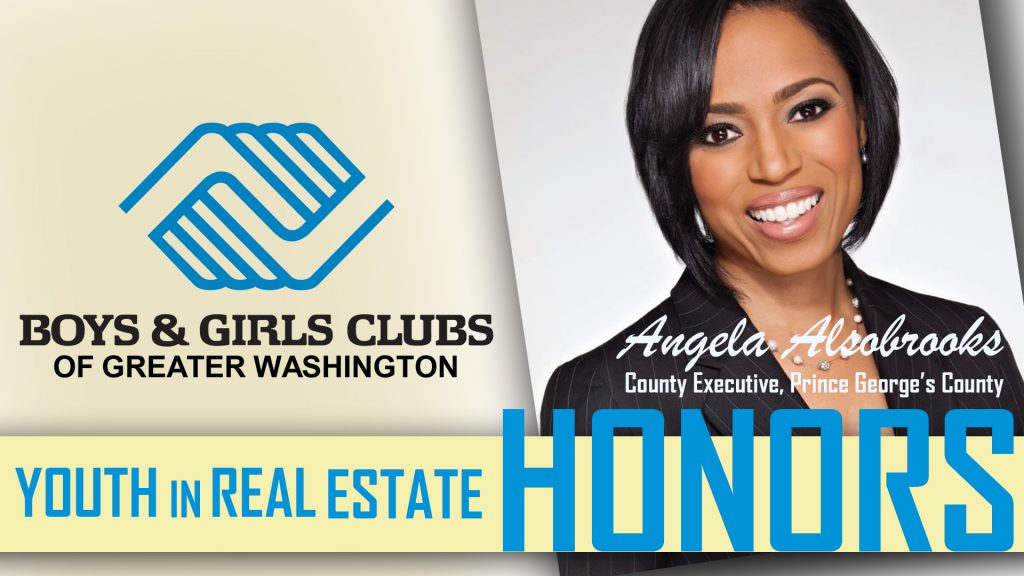 On Tuesday, November 9th 2021 Boys & Girls Clubs of Greater Washington (BGCGW) will host its 17th annual Youth in Real Estate (YRE) fundraising event. The event is one of BGCGW's largest annual fundraisers and is a highly anticipated gathering of local Washington, DC, Maryland and Virginia real estate industry leaders.
Each year, the event celebrates leaders of industry and leaders in the community—those that are helping to make the DC, Maryland and Virginia region better. One member of the community that will be honored for their service at YRE this year is
ANGELA D. ALSOBROOKS, County Executive, Prince George's County, Maryland.
BGCGW recently connected with the County Executive to learn about her perspectives on leadership, growth and advice for tomorrow's aspiring public servants.
1. Please provide one piece of advice for youth (especially young girls) interested in public service?
I would tell young people, especially young girls, to take every opportunity to explore your interests and consider all the possibilities that your future may hold. Don't let others close doors on your dreams just because they don't share your imagination.
We all have talents. We all are good at something. Some of us know early on what we want to do. Others take a longer process to find their calling. And some follow a path early on, only to find a different passion and switch courses down the road. But, you won't know unless you try.
I had many interests as a young girl, but I knew early on that I wanted to enter public service. So, I did. I became a lawyer and took a job as the first full-time prosecutor for domestic violence cases in the State's Attorney's office in Prince George's County.
However, I never expected that path would lead to becoming the first woman to be elected Prince George's County Executive. What is important is taking the time to explore your talents now, because you never know where they will take you in life.
2. What's the best thing about your current job?
I love working with so many talented, qualified people who love Prince George's and want the best for the County, but the best thing about this job is being able to directly benefit the lives of residents in the community that I have called home my entire life.
Whether working to deliver over one million meals last year to safely feed our seniors through the pandemic, or achieving an innovative plan to build new schools quickly for our children, this job helps deliver results to our residents. Our nonstop efforts to make the COVID-19 vaccine available to all our residents lets them know everything we do is with their best interests in mind. In addition, the opportunity to talk directly to residents at town halls and community walks gives me the chance to let residents know that their concerns are being heard.
One thing the COVID-19 pandemic has taught us is that we will only make it through this by sticking together, and every day I'm inspired by the heart our residents have for each other. I am truly blessed to serve as their County Executive.
3. What's been your proudest moment in your career?

My proudest moment in my career was when the residents of Prince George's County elected me to be their County Executive. I grew up in Prince George's County, and I first wanted to run for office because I wanted to make my community a better place for young people like my own daughter.
When I served as State's Attorney, the work we did to help families and promote restorative justice led to a historic reduction in crime and set a foundation for a brighter future. I realized that as County Executive, I could do even more to improve education, social services, access to youth sports, workforce development and so much more. I could help change inequities in our society that are holding our communities back, and I could help give our young people a better start in life through a robust government.
So, when the residents of Prince George's County trusted my vision and had faith in me to lead, it was an incredibly powerful moment. I work hard every day to reward their belief in me and make this County an even better place to live, work and play.
4. What was your reaction to hearing that you'd be a BGCGW Youth in Real Estate Honoree this year?

I was humbled and grateful to receive this honor, and I was also reminded that every day someone is watching your example. When I was younger, I learned a lot from the example set by people like my parents and other family members, and they helped shape who I am today. I know that our youth are very perceptive, and to receive this honor from the BGCGW is very special. I also know that young people themselves can be examples, and I can learn a lot from watching the BGCGW youth grow and reach their potential.
5. What motivates and fuels your desire to give back to organizations like BGCGW?
You may have recently heard me say that "Greatness grows here" in Prince George's County, and that growth starts with our young people. That growth has been challenged by the ongoing COVID-19 pandemic, but I have been inspired watching the resilience of young people in Prince George's County and our region. Our youth have proven capable of overcoming incredible obstacles, and they absolutely deserve a nurturing, encouraging environment that gives them the best chance to reach their full potential. Organizations like BGCGW that are dedicated to creating this kind of community need our continued support, especially in challenging times like these.