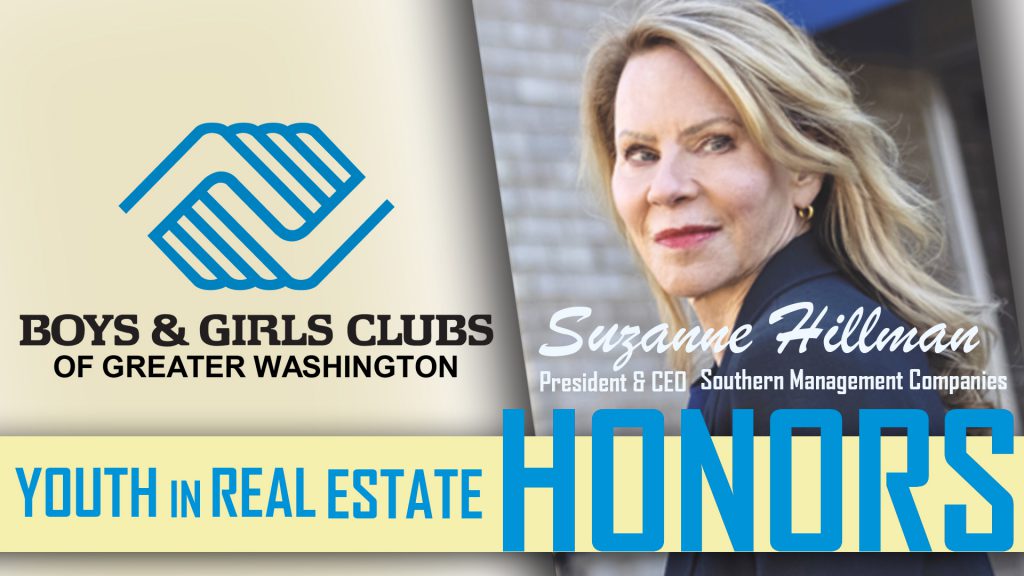 On Tuesday, November 9th 2021 Boys & Girls Clubs of Greater Washington (BGCGW) will host its 17th annual Youth in Real Estate (YRE) fundraising event. The event is one of BGCGW's largest annual fundraisers and is a highly anticipated gathering of local Washington, DC, Maryland and Virginia real estate industry leaders.
Each year, the event celebrates leaders of industry and leaders in the community—those that are helping to make the DC, Maryland and Virginia region better. One member of the community that will be honored for their service at YRE this year is
SUZANNE HILLMAN, President & CEO, Southern Management Companies
BGCGW recently connected with Suzanne to ask about the personal motivations that inspire her every day.
1. What motivates and fuels your desire to give back to organizations like BGCGW?
Giving back and being of service is one of my core values.  As my parents gave to me, I want to pay it forward.  The ability to make a difference in a young person's life is the greatest gift and the best investment in our collective future!
2. What's the best thing about your current job?
 It's having the opportunity to build a great company, work with wonderful people and create opportunity and value for our stakeholders.
3. What's been your proudest moment in your career?
Continuing to move Southern forward by closing on the largest transaction in the history of our company during the middle of a pandemic.  It was the proudest and the riskiest moment of my career.  I was able to take the risk because of my family.  It comes from having parents who always loved me, win or lose.  My family provided me with the confidence that I knew I could always go back home.  With that you can afford to take any risk and know everything is going to be ok, regardless of outcome.
4. What was your reaction to hearing that you'd be a BGCGW Youth in Real Estate Honoree this year?

Surprise! It is a very humbling honor.
5. Please provide one piece of advice for youth (especially young girls) interested in the commercial real estate industry?
Go for it! There are so many opportunities in the field of commercial real estate. Surround yourself with people that think differently, be a great listener and never stop learning and continuing to improve yourself!