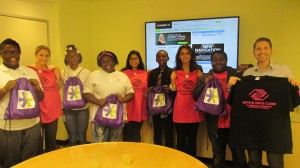 Encouraging teens to get a jump start on budgeting, saving and investing are critical lifetime skills. At Boys & Girls Clubs of Greater Washington (BGCGW), we know the importance of financial literacy and through our successful Money Matters program, volunteers like Brandon Derr are making a difference. Brandon is one of the Club's newest volunteers and since the fall, he has been mentoring Club members at FBR Branch @ THEARC.
Brandon said he first learned of the Money Matters program through E*TRADE, where he works as a senior information technology officer. Brandon coordinates E*TRADE staff members at three Clubs including FBR Branch @ THEARC, Germantown and Dunbar Alexandria-Olympic. By engaging a new generation, Brandon along with trained counselors, works one-on-one with Club members to teach basic money management tools. BGCGW's Money Matters curriculum is an educational series designed to promote financial responsibility and independence for kids ages 13-18. Teens learn everyday life skills such as how to manage a checking account, create a budget, save money and invest for the future. "Money Matters is a robust curriculum, so we have to pick and choose specific lessons that are most relevant and worthwhile," said Derr. Brandon is particularly excited about introducing the Club members to the E*TRADE staff. During a field trip to the E*TRADE's D.C. office, Club members participated in a mock stock market game and presented a strategic business plan.
"Boys & Girls Clubs of Greater Washington allows volunteers to shape the future of America in a positive manner, a significant responsibility and privilege," shared Derr. This year, Brandon plans to help rising juniors and seniors with the college admission process at the FBR Branch @ THEARC.
Brandon originally from Harrisburg, Pennsylvania has been living in the District for two years. A graduate of Pennsylvania State University, in addition to volunteering, Brandon enjoys playing tennis, listening to live music and watching his Nittany Lions play college football. Recently, for his outstanding efforts and commitment, E*Trade honored Brandon as Volunteer of the Year. He was awarded a gift of $500 that he immediately donated to the Clubs. Congratulations Brandon and thank you for all you do!