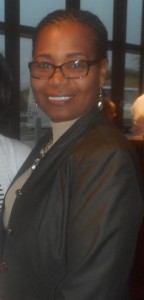 Sometimes you are lucky enough to meet a person whose whole life is an act of generosity and care for others. Ms. Ella Austin is that person.
Growing up in a tight-knit family, Ms. Ella learned about the value of staying close to each other, helping each other through good times and bad.
In 1997, Ms. Ella came to the Boys & Girls Clubs of Greater Washington where she is now the Licensed Child Care Director at the Hylton Club in Dale City, Virginia.  A "typical" day begins with greeting Club members, starting at 6 a.m., and making sure they have meaningful activities before taking them to school, and then at 3 p.m. when they arrive back at the Club. Ensuring safety first, she provides Boys & Girls programming and exposure to each member. Her goal is to help prepare these young people to lead a productive life as a member of their communities, and as a citizen of our country.
Her favorite thing about her work is seeing the interaction among Club members, and the way they put their all into trying to achieve positive results.
When not at the Club or carrying out the many other charitable activities in her church and community, Ms. Ella enjoys spending time with family & friends and travelling to different parts of the world. And she LOVES to go shopping!
The one word she uses to describe herself is "blessed". At the Boys & Girls Clubs of Greater Washington we know we are truly blessed to have Ella Austin on our team. We hope she will continue sharing her magic and love with Club members for many years to come!