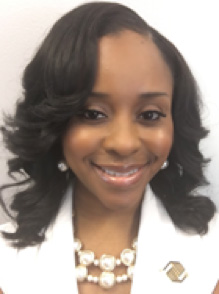 Denieka began her journey in youth development in 2006 while working on her Education  degree. She wanted to expand her hands-on experience with children and started working at a local after-school program.  This turned out to be a life-changing experience.  After graduation, she aspired to be a team member of the prestigious youth serving organization, the Boys & Girls Club of Battle Creek, Michigan as the Assistant Unit Director.  As a young professional, she soon learned the importance of accountability, professional integrity and that even a minimal amount of time spent with a young person can drastically impact their lives positively.
In 2014, she joined BGCGW as the Branch Director at Richard England Clubhouse 14. Under her leadership, the Clubhouse experienced a variety of positive changes and new direction. Denieka was able to hire additional skilled staffers, oversee three renovations and triple the program revenue.  In addition, she had an infectious personality that helped to re-engage Club members, parents and volunteers.  She enjoyed providing a different perspective and opportunities for her Club members.  "I enjoy being able to have direct impact on the lives of young people.  My personal passion has encouraged youth to experience something new, gain knowledge from new resources and create a blueprint for their lives.  The greatest reward is seeing young people's success due to my influence."
Her most recent promotion to the position of Director of Operations for the District of Columbia and Maryland Clubs is giving her the chance to share her experience and best practices as a leader. "I think my knowledge of every position makes me an effective leader.  I've worked my way up through the ranks of youth development and acquired skills that enable me to execute every position within the Boys & Girls Club.  I am very understanding, devoted and passionate about what I do.  I lead by example and in turn I am a servant leader.  I am authentically me and I believe people appreciate that."
During her time of leisure, Denieka loves to read.  She describes herself as an avid reader of fiction and motivational books.