Washington, DC (April 2022) – TV personality Al Roker and Boys & Girls Clubs of Greater Washington (BGCGW) were treated to an exclusive visit from former President Barack Obama. Club members from Culmore, Murraygate and Ox Hill Clubs attended the event at Great Falls National Park in McLean, Virginia.
Club members were broken up into two teams. 'Team Obama' and 'Team Roker' set out to find and photograph several items within the park—learning something new with every find. Each team was guided by a park ranger.
"We asked him a lot of questions," said Helen a Club member from the Murraygate Club when referring to President Obama. "We asked him about what he does now, what kind of car he drives and his favorite color." Helen went on to talk about why experiences like this make Boys & Girls Clubs special for her. (Watch Helen's Interview HERE)
Roker, Obama and the Club members were all awarded Jr. Park Ranger status for completing the adventure.
"Climate change is a top priority for all us," said Mr. Obama. "People are learning to care for the wildlife and these amazing landscapes."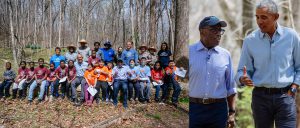 The activity served as a glimpse into the Netflix documentary series, Our Great National Parks, hosted and narrated by the former president. The entire story can be watched via NBC's Today Show HERE. The official trailer can be viewed HERE.