Meet 2016 Youth of the Year, Faith Moore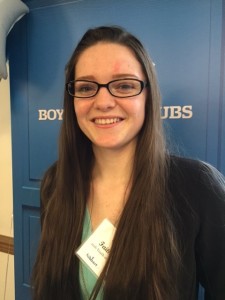 Faith is a proud member of the General Heiser Branch and a dynamic 16 year-old student at Brooke Point High School.
At a very young age, Faith was introduced to the Boys & Girls Clubs through her mother who at the time was a counselor.  Being home- schooled presented a challenge for Faith to socialize with other kids her age.  A self-proclaimed introvert, Faith has been able to blossom in the social atmosphere that the Club provides.
Over the years, she has become a standout leader among her peers. She is President of the Keystone Club (our premiere teen character and citizenship program), a member of SMART Girls and is heavily involved in helping tutor kids during Power Hour as well as mentoring the younger female Club members.  When asked to describe Faith, Adrian McShane, Club Program Director says, "She has a knack for being the face of the Club and the youth that it serves."
Faith was recently named the 2016 Youth of the Year for the Boys & Girls Clubs of Greater Washington and will go on to compete at the DC/Virginia State Competition.
Faith sees herself graduating college and becoming a successful businesswoman. The Club has shown her that it is possible to pursue an education after of high school. "The Club has impacted my life by daring me to be different. It has taught me the successes of being a leader and not just settling for the status quo. "
Faith lives by the motto, "Don't get bored, get busy!" She also maintains an active lifestyle outside of the Club. She enjoys working out, playing basketball and softball, volunteering, and more. During the rest of her free time Faith enjoys reading and spending time with her family.