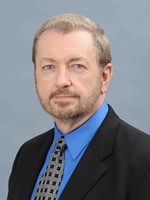 "I am a product of these Clubs and I owe much of my success to what they gave me. Therefore, I'm ready to serve."
On April 26th, Fred Plumb was confirmed as the new Board Chair for BGCGW's Metropolitan Board of Directors. Fred is Executive Vice President for the Federal Employees Health Benefits Program Strategic Business Unit of CareFirst BlueCross BlueShield, the largest health care insurer in the Mid-Atlantic Region.
Fred will succeed Debbi Jarvis of Pepco Holdings, who held the position for three years. Please join us in thanking Debbi for her dedicated service and long-term commitment to BGCGW, and in welcoming Mr. Fred Plumb to this extremely important role.
In his new role, Fred will continue his support of BGCGW. For the past two years he served as President of our Fairfax County Regional Board where his work resulted in new partnerships and better board collaboration, as well as the recruitment and preparation of a next generation of leaders. Fred's commitment to the Clubs goes back much further than that, to the time when he was a member of Dunbar Alexandria-Olympic Branch.
On behalf of Club Kids throughout our regions, we look forward to a bright future!