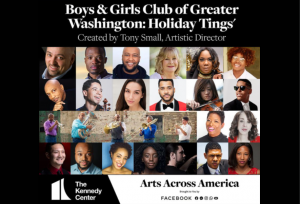 Our Holiday Tings' performance was a great way to kickoff the holiday season!  Created by BGCGW's very own Regional Artistic Director and award-winning composer Tony Small, the concert was truly inspiring. View the show!
This third installation of BGCGW's annual Holiday Sing/Swing/Tings' Trilogy was presented as part of the Kennedy Center's Arts Across America series. It showcased Club alumni that have gone from our ICON Talent Showcase to national performance venues to Broadway!
We want to recognize the BGCGW Women's Leadership Group for its continued efforts to keep Arts programming alive in our Clubs. For over 20 years, their unwavering support has been instrumental in providing scholarships and life-changing experiences for our kids and teens.
A special thank you to our board of directors, generous supporters and all of the amazing artists who continually give of their resources, time and talent in support of creative expression.  Including:
DC Commission on the Arts and Humanities
The John F. Kennedy Center for the Performing Arts
The Hanley Foundation
Patty Perkins Andringa
The cultural arts provide a way to communicate when words can be difficult – especially during this trying time.  BGCGW will continue to foster creativity and giving our kids a voice through our Art programming.