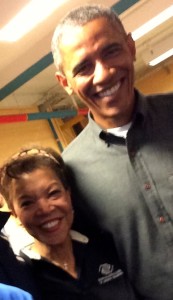 By now you are probably over and done with New Year's greetings, but at Boys & Girls Clubs of Greater Washington we end our fiscal year end on February 28th, so we are truly on the cusp of a new year.
That means we have 365 new opportunities to serve the kids, teens and communities who need us most. How will we do this in 2015? First of all we will connect with our Club members and families to make sure our actions are valued and on target. We will do our best to attract and appreciate staffs who, quite simply, are the way we change lives everyday. And we will focus on program goals involving increased outreach and service to teens; higher test scores related to STEM; arts exposure for every member, and a well-coordinated sports and fitness curriculum.
Collaboration with other non-profits is the foundation of how we will increase the level of service to the young people we serve.  Very soon we will share news of some exciting partnership initiatives!
Last, we will be good stewards of all of your gifts and support. I thank you and am honored to have your trust.
Speaking of support, our calendar year is off to an exciting start! In just the first few weeks, we have hosted the President, Malia, and Mrs. Obama; celebrated our Pepco STEM Club with a competition involving 11 of our 12 Clubs; and have been recognized for the outcomes of our Verizon girl-power STEM robotics program.  With all this good news we can't wait for the days to come!

Photo Slideshow
Wishing you a very healthy and productive 2015,
Pandit