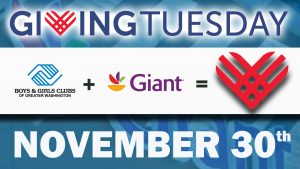 This year, Boys & Girls Clubs of Greater Washington (BGCGW) has a Giving Tuesday partner in Giant Food.
Giving Tuesday is November 30th; however, between November 26 – December 2, local Giant Food customers can donate or round-up their purchases at any local Giant store checkout to directly benefit BGCGW and its more than 21,000 Club kids.
100% of Giant customer donations will go directly to four organizations during the 2021 Giving Tuesday donation period. BGCGW, U.S. Dream Academy, Latino Student Fund and GLSEN Maryland will all benefit from this year's Giant customer support.
Giant Food will kick off Giving Tuesday fundraising with a $5,000 donation for each organization.
Giving Tuesday is a global generosity movement that combines the power of people and organizations to transform their respective communities. Around the world, people show generosity in all forms during this day. Through acts of kindness, by giving their voice, time, money, goods and advocacy to support communities and causes, every country and territory has an opportunity to show solidarity to make an impact.
A longtime partner, Giant has sponsored the annual BGCGW Teen Takeover, an initiative that provides a space for youth to have an open dialog and provide outlets for them to build community.
Join Giant Food this November by donating to BGCGW's youth development programs and initiatives.
To donate: https://bgcgw.org/giving-tuesday-donations/