by Maya Ollie, MarComm Intern

On December 3, 2013, our "Extreme Teens" from our
FBR @ THEARC Branch
were privileged to visit Capitol Hill for the day and meet with Congresswoman Maxine Waters! Congresswoman Waters has served the 43
rd
District of California for 12 terms- an outstanding tenure! That is just the tip of the iceberg when it comes to Congresswoman Waters' résumé. The FBR Extreme Teens spent the days leading up to their visit with Congresswoman Waters researching and learning about her accomplishments in government. Needless to say, the teens were so anxious and honored to meet her!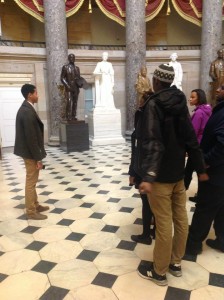 With great anticipation the teens awaited her arrival. As soon as she arrived into the room you could hear a pin drop. "What are your goals and aspirations," Ms. Waters began the conversation. The teens all looked at one another, each one more nervous than the other to answer first.  So Ms. Waters, tried this question: "Everyone here has plans on going to college, right?!" All of our teens responded with a resounding "Yes!"  Congresswoman Waters went on to discuss the ins and outs of our government and the role she plays in it. Afterwards she opened up the floor to our youth asking them how the government could improve and why it is important for them to voice their opinions to our government. Essentially Congresswoman Waters highlighted that if our youth want to sculpt the future they have to let the architects (our government) know their vision! We could have spent the entire day with Ms. Waters but she had full agenda. We were truly grateful she took time to talk with our teens!
After Congresswoman Waters left, her Chief of Staff, Mikael Moore, was also able to spend time with our youth. This turned out to be a very enriching conversation. Mr. Moore shared  why he loved working so closely with Congresswoman Waters. He reminded our youth not to fear greatness and remain humble. If that was not enough,  our teens went on tour of the U.S. Capitol! As fate would have it one of our teens with us, Ryan Washington interns for both the Rayburn House Office and the Capitol! Ryan led everyone on a one-of -a-kind guided tour!
After meeting with Congresswoman Waters one of our teens said, "I'm going to work in the government one day!" This is the perfect synopsis for the day: Inspiring.
We would like to thank both Congresswoman Waters and  her Chief of Staff, Mikael Moore for spending time with our youth! It is a day they will never forget.
Check out more photos on Facebook.