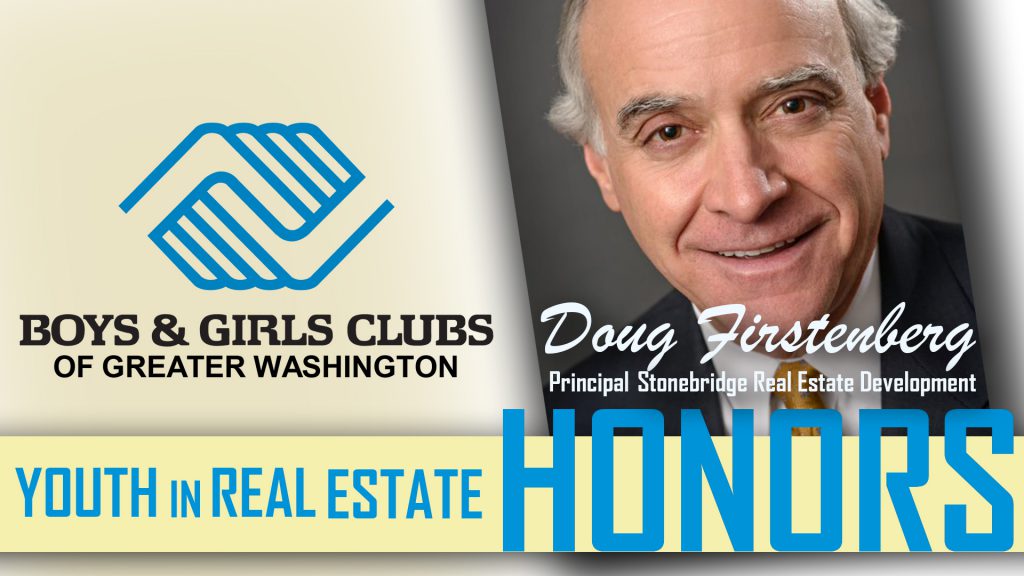 On Tuesday, November 9th 2021 Boys & Girls Clubs of Greater Washington (BGCGW) will host its 17th annual Youth in Real Estate (YRE) fundraising event. The event is one of BGCGW's largest annual fundraisers and is a highly anticipated gathering of local Washington, DC, Maryland and Virginia real estate industry leaders.
Each year, the event celebrates leaders of industry and leaders in the community—those that are helping to make the DC, Maryland and Virginia region better. One member of the community that will be honored for their service at YRE this year is
DOUG FIRSTENBERG, Founding Principal, Stonebridge Real Estate Development and Investment.
BGCGW recently connected with Doug to find out what he treasured most about being a "communitarian" and a BGCGW 2021 YRE honoree.
1. Please provide one piece of advice for youth interested in the commercial real estate industry?
Life is full of challenges and opportunities. Address those challenges and realize the opportunities. Most importantly, find, cultivate and treasure your mentors.  I still remember what my coaches meant to me when I was growing up. What my mentor in business means to me 40 years since I first worked for him.  Find great coaches/teachers/mentors.  Treasure the relationship. They will treasure it as well.
2. What's the best thing about your current job?
I love my job because our team can influence a neighborhood – we hope in a way that contributes to a better quality of life.  Whether we have helped Bethesda be even better or contribute to the creation of the NoMa neighborhood, it is exciting and fulfilling to contribute to our communities.
I note our team because it takes a great team to make projects happen and be successful. Working with great people at Stonebridge and the wide variety of people needed to make a project come to fruition makes it fun.
Lastly, being honored with my wife is so appropriate for so many reasons.  In this context though, without her unyielding support I would not have been able to be involved with so many great projects.
3. What's been your proudest moment in your career?
I don't think there has been one particular moment. There have been many. People have very long tenures at our firm of which I am very proud. My proudest moments  are watching my colleagues at Stonebridge achieve new success at work and watch them grow as people.  One of my favorite days at Stonebridge is Halloween when the offices empty out early so my colleagues can take their children trick or treating.  The priorities are right.
4. What was your reaction to hearing that you'd be a BGCGW Youth in Real Estate Honoree this year?
Being honored with amazing women in a real estate event is such a great statement by the Boys & Girls Club – I am humbled to be included with County Executive Alsobrooks and Suzanne Hillman as an honoree.  It is also fitting as I have been blessed in my life with so many successful women from my mother to colleagues and dear friends and, of course, my wife!  To be honored with my wife makes this even more special.  Watching what she has done in the past year to help all of us comprehend the loss from COVID makes me so proud to be her husband and fellow honoree.
5. What motivates and fuels your desire to give back to organizations like BGCGW?
My parents worked in organizations that focused on giving back.  It taught me the value of giving back. Life is about family, dear friends and making a difference.  I love my work.  But I love contributing.  Helping people realize a better life, a new opportunity or overcome a challenge. That is meaningful.
A dear friend, Cokie Roberts, called Suzanne and I "communitarians" – the highest compliment I might have ever received.  It gave me a sense we were doing it right. Helping our community, helping others.