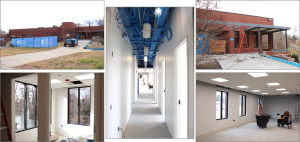 Excited, grateful, happy describes how we feel about the renovation of our headquarters location in northeast DC. DAVIS Construction, a proud partner and friend to BGCGW for nearly 15 years, is heading this pro bono gift of caring. With a history of supporting local organizations and a genuine passion for giving back to our community, DAVIS is the driving force bringing the expertise of DBI Architects, Inc. and over 30+ trade partners to participate in this nearly $1M in-kind service project.
Over the years, BGCGW has undergone various layers of improvements within our Clubs updating spaces specifically for our kids. DAVIS wanted to focus this effort on providing staff with a safer, more comfortable and efficient workplace to create a fresh, welcoming environment. This, combined with technology improvements, will give staff the tools needed to grow and improve, while working to make a positive impact on our youth for years to come.
Some of the enhancements include a complete gutting of approximately 5,000-SF of the headquarters location, the installation of new offices with glass sidelites for executive staff, floating ceilings with BGCGW blue accent paint on above ceiling HVAC, new plumbing and electrical work and replacement of security systems as well as teledata. Staff offices will have new systems furniture workstations along with a small audio-visual package for their team room and conference room. And, the front entrance will have all new storefront glass and a new large steel BGCGW sign being installed on the roof.
We are super excited and can't thank DAVIS President + CEO, Jim Davis, enough. Jim is a member of our Metropolitan Board of Directors and has supported our annual Youth in Real Estate event for over seven years, including being an honoree. "By working together with the subcontractor community, we can make such a large impact on the Boys & Girls Club of Greater Washington," shared Jim. "This is an organization that does so much for kids in our community, what better way to show our appreciation than coming together to make a difference for them as well."
Thank you DAVIS! We can't wait to move in to our new space!!