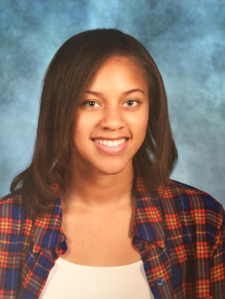 She's a bright and rising star from the Hylton Branch.  This 17 year-old senior at C.D. Hylton High School shines among her peers and is an inspiration to younger members.
Destiny was first introduced to the Club when her father was deployed.  She was enrolled as a Mission: Youth Outreach Program member, which as a child of a deployed military service member gave her the opportunity to participate in community-based youth development programs at the Boys & Girls Club at no cost.  Her father's deployment proved itself to be a stressful and challenging time for her.  The Club provided the support, encouragement and nurturing environment that helped to create a sense of comfort during this transitional period.
A once shy and quiet young lady, she's blossomed into an outgoing role model.  Both the staff and fellow members began to take notice of her leadership skills and talents, especially in Math.  Some of her involvement at the branch includes her presidency over the Keystone Club and becoming one of the first members of the Alloy ACHIEVERS programs. Roberta Collier, Program Director says, "Destiny is an inspirational young woman, and she is destined for greatness.  She is personal, wise beyond her years and is the epitome of a golden child.  We are lucky to have her."
After graduating from high school, Destiny aspires to attend college and major in a STEM related field.  Through the Club, she's attended college tours, learned about various professions and has been exposed to scholarships opportunities.
When asked how the Club has impacted her life, she said, "The Boys & Girls Club has made me a selfless and considerate person who has a genuine passion for helping others. The Club has made community outreach possible."
Destiny's leisure time includes spending time with friends, shopping at the mall and watching movies.