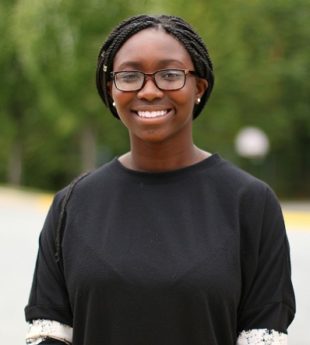 Ashley Gyapomah is a proud member of the Germantown Branch.  She is a 13 year old 8th grader that attends Neelsville Middle School.  Ashley has been a member of the Club since she was in kindergarten.
Throughout her years at the Club, she has become more responsible and mature, thanks to being a part of Torch Club and even being a junior Counselor in Training (CIT).  The staff can trust and rely on her when needed for important tasks. Program Director, Toman Napitupulu describes Ashley as a respectful and loyal Club member with a good attitude.  "She is willing to help with anything and enjoys coming to the Club to participate in all activities. She's friendly with other Club members and also focuses hard on her school work."  Her next goal is to run for Torch Club President.
The Boys & Girls Club has made a lasting impact on her. When asked how, Ashley said, "Through the Club, I've had so many opportunities that I wouldn't have received or tried.  I have been an emcee at an event, met Club members from other Boys & Girls Clubs and earned Student Serving Learning Hours. The Club has made it possible to express myself."
When not at the Club, Ashley has a lot of hobbies that include singing, playing softball, and learning new things.