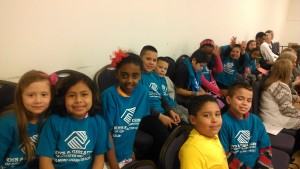 It's been said, "your character is the most important asset you have" and Boys & Girls Clubs of Greater Washington's Culmore Character Club is dedicated to ensuring boys and girls have a safe place to learn, have fun and grow by empowering character development.
The Culmore Character Club has been serving youth in the Fairfax County area for over 20 years. By teaching the six pillars of character: Trustworthiness, Respect, Responsibility, Fairness, Caring, and Citizenship, the Club is strengthening the next generation of future leaders.
In early 2014, Club Director, Wonhee Kang, lovingly referred to as "Ms. Wonhee" had a vision to plant new roots in a community faced with gang violence, sex trafficking and drugs. In order to reach the heart of the community, Kang envisioned the importance of an international community transformation. The Club discovered many members leaving after homework club and not taking part in the various enrichment programs. Starting from the ground up, Kang and her team began to educate the community's tight-knit Latino families on the history and mission of Boys & Girls Clubs of Greater Washington (BGCGW).
While making great progress, Kang was striving for excellence. In December, the Club hired new Program Director Malcolm Richards. Richards began a quick transformation and has re-launched BGCGW signature programs with a new twist. "We wanted to create a culture where kids were coming to the Club for more than just help with homework," said Malcolm Richards. Richards added, "Our revamped programs now offer a diverse cultural experience promoting positive character building qualities such as compassion, loyalty and self-control."
This year, Club members ages 5 to 18 are participating in a community-wide beautification initiative that introduces kids to a greenhouse, gardening and recycling program. A redesigned Triple Play Smart Moves campaign which promotes physical activity, exercise and healthy lifestyle now includes Hydration Station, a club-wide water challenge meant to promote health through water consumption. Diplomas to Degrees, an early college awareness program supports and helps facilitate the pursuit of a post-secondary education combined with STEM technology and training.
In order to be successful, the Falls Church location understood the importance of connecting directly with high school students. Starting in January, the branch launched a Youth Council which serves as "the voice" for Club members. Each Thursday, Club members enjoy Rhythm & Culture, an exciting new program that introduces kids to various cultures through basic drumming techniques and rhythms. Richards explained, "Rhythm is the universal language and there's no better way to teach and empower youth to rise above any challenge and realize their full potential than through music."
Congratulations to the team at Culmore, who is inspiring the next generation of future leaders to know that being of good character is more than what others see, it is who we are even when no one is watching.