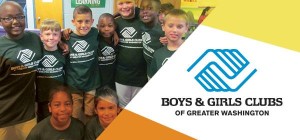 Boys & Girls Clubs of Greater Washington (BGCGW) is pleased to announce the opening of two new operating sites in Prince George's County. These new programs will be located at two Prince George's County schools. The goal is to provide world class out of school time activities for 100 students per day at Samuel P. Massie Academy and William W. Hall Academy.
The opportunity to open new locations in Prince George's County was made possible through a partnership initiated by the Prince George's County Government and Public Schools. Both entities worked together to find a quality afterschool program that had a proven record of success. Boys & Girls Clubs of Greater Washington participated in a rigorous vetting process before the partnership was formally established.
"We are so proud to be able to partner with the Prince George's County Government and school system," said Michael McDonald, BGCGW's Regional Vice President for DC and Maryland Clubs. McDonald added, "Providing quality afterschool activities and life changing programs to the kids who need us most is what the Boys & Girls Clubs are all about".
To fund this program, Prince George's County Government turned to the Transforming Neighborhoods Initiative (TNI). TNI is focused on uplifting six neighborhoods in the county that face significant economic, health, public safety and educational challenges. TNI gave the county an opportunity to take a more holistic approach to address the challenges faced by these communities.
"We are extremely excited to enhance our ability to accomplish our goal of serving more youth, more often in Prince George's County," said Nycal Anthony Townsend, the inaugural Chair of BGCGW's Prince George's County Board.
The two new locations will grow BGCGW's impact by reaching 400 youth each day with innovative and diverse programs. Each site will offer the organization's signature educational enrichment programs such as Power Hour where Club staff and local volunteers work to make sure that kids have the support to complete their homework every day. The Clubs will also offer Triple Play, BGCA's first comprehensive health and wellness program, developed in collaboration with the U.S. Department of Health and Human Services which strives to improve the overall health of Club members by increasing their daily physical activity; teaching them good nutrition and helping them develop healthy relationships.
Members will also have the opportunity to participate in BGCGW's STEAM programs. STEAM, which stands for Science, Technology, Engineering, Arts and Math, provides members a unique opportunity to learn about STEM through the lens of Art. Club members between the ages of 13 and 18 will also have the opportunity to participate in Youth of the Year. We look forward to offering all the exposure and signature experiences provided by membership in Boys & Girls Clubs of Greater Washington. GREAT FUTURES START HERE!