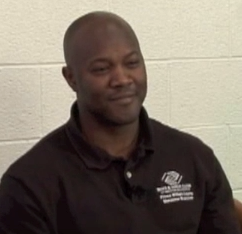 From the fields of the National Football League to the halls of Boys and Girls Clubs, Tyronne Drakeford knows there is no off-season when it comes to learning and growing both as an athlete and as an individual. At the Boys & Girls Clubs of Greater Washington, we are fortunate to have Tyronne, a retired NFL player as our sports director in Prince William County where he manages the athletic programs for Dale City, Dumfries and the Manassas branches.
Spend just a few moments with Tyronne and you'll quickly realize his heart is with his young Club members. Tyronne's warm and attentive personality make him a popular leader in Prince William where each day he champions sports for our children in the hope they will earn valuable life lessons. According to Drakeford, "It's important to have the whole package. We want our kids to learn sportsmanship, develop good listening skills, show respect and be a coachable person. I believe those are characteristics for today and tomorrow."
No stranger to competition, after attending Virginia Tech, Tyronne was drafted and played eight years in the NFL as a cornerback for the San Francisco 49ers, New Orleans Saints and the Washington Redskins. Today, he lives in Northern Virginia with his wife and three sons.
Tyronne's commitment to hard work and his enthusiasm for sports is a win-win for Prince William where he strives to ensure our Clubs' athletics are top-notch, competitive and relevant. For years, the athletics program was offered to boys and girls ages 6-18, who wanted to learn and play basketball, football, volleyball and cheerleading.  Thanks to Tyronne, Club members can now enjoy soccer and lacrosse. This spring, Tyronne helped expand the soccer program by partnering with Prince William Soccer (PWSI). He said the response was "overwhelming and long overdue."  With the assistance of PWSI, the entire family was involved as the kids practiced three days a week learning foot skills, shooting and positioning. With the expansion of soccer and addition of lacrosse, BGCGW has something to offer Club members all year round. "Enjoying a sport is very important to the development of these young kids. We want them to enjoy all aspects of competition and take advantage of the programs on and off the field."
Thank you Tyronne!