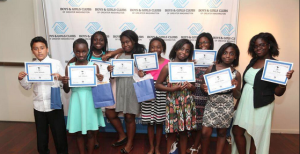 Each school year, Boys & Girls Clubs of Greater Washington, along with our partners and volunteers join forces to meet the needs of our communities by offering Club members top-notch programming that fosters academic success, character building, citizenship and healthy lifestyles. Here's a glimpse of what to expect this year:
Hands-on S.T.E.A.M Programming: These programs engage students in science, technology, engineering, arts and mathematics through our signature approach – Fun with a purpose! Programming includes:  An eight-week DIY STEM program called Tech Girls Rock, sponsored by CA Technologies and hosted at the Martin K. Alloy Manassas Branch.
New Arts Programming: Club members will have the opportunity to experience the arts through a partnership between Imagination Stage of Bethesda, Maryland and the historic National Theatre. The inaugural season includes presentations of Roald Dahl's, The Big Friendly Giant.
Keystone and Torch Clubs: These two club programs are focused on developing leadership skills and promoting community service among our teens.
Alloy Achievers: Designed to identify and support college bound students, the program develops promising high school students and helps them to their way to a college education.
Health and Life Skills: An array of health and life skills programming and events help our kids  develop a healthy attitude and the strength to make positive and responsible choices. Attitude, respect and prevention are all part of the Club's programming. SMART Girls, Passport to Manhood and S.H.I.N.E., programs- all nationally acclaimed educational curriculums.
Play Ball! Sports programming including basketball, soccer, football and lacrosse provides our kids the space to channel their energy in a positive, competitive and  safe environment.
There's something for every boy and girl at Boys & Girls Clubs of Greater Washington. Come check us out!