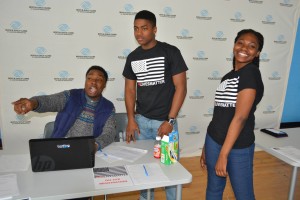 Building on the success of the first #OurLivesMatter townhall event, Boys & Girls Clubs of Greater Washington, FBR Branch @ THEARC hosted #OurLivesMatter2. On Saturday, March 28, more than 200 middle and high school students participated in the second open forum. #OurLivesMatter2 was designed to assist youth of color with developing cultural awareness that equips them for the ongoing civic and community engagement movement taking place here and around the country.
During the daylong event, young leaders from Boys & Girls Clubs of Greater Washington and senior community leaders led a series of roundtable discussions dealing with societal issues including police interaction with youth, educational advocacy, community violence and conflict resolution.
Four powerful themes – inform, equip, articulate and engage outlined the day's activities. Ayanna Holmes, 2015 BGCGW Youth of the Year joined members of the Metropolitan Police Department and Dr. Robert Simmons, III, Chief of Innovation for DC Public Schools. Dr.Simmons discussed the spirit of our cultural heritage as people of color, inequalities that exist in our communities and an action plan to further the #OurLivesMatter movement. His message focused on empowering teens to work with their schools to express themselves and create change.
A special thank you to our sponsors, BePolished DC, Black Swan Academy, DC Youth Slam Team, America Put on Blast and iCan @ THEARC Theater.