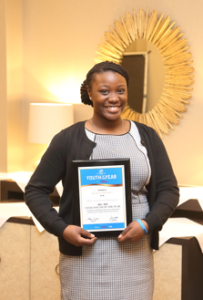 Best of luck to Ayanna Holmes, Boys & Girls Clubs of Greater Washington's DC/VA state representative competing for the 2015 Youth of the Year title.
Ayanna and her family will travel to the Georgia Aquarium in Atlanta, GA for the Southeast Regional competition, taking place on June 18. Ayanna, a four-year member of FBR Branch @THEARC, continues to amaze us with her talent for poetry and photography accompanied by her leadership and academic skills.
Since 1947, the Youth of the Year award has been Boys & Girls Clubs of America's premier recognition program, celebrating the extraordinary achievements of Club teens. Through the competition local clubs recognize members ages 14 to 18. State winners each receive a $5,000 scholarship and advance to regional competitions. Regional winners receive an additional $10,000 college scholarship, renewable for four years up to $40,000. Six youth, including five regional winners and a military winner advance to the National Youth of the Year competition for a chance at an additional scholarship of $25,000, renewable up to $100,000 for four years; a free car and the opportunity to represent youth all across the country.
Ayanna, from all of us at BGCGW, may good luck be your friend this week. We are proud!