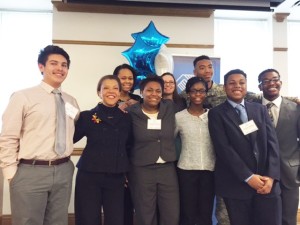 Youth of the Year has been Boys & Girls Clubs of America's premier recognition program, celebrating the extraordinary achievements of Club members. Each year, one exceptional Club member is selected to be the National Youth of the Year. The National Youth of the Year serves as both an exemplary ambassador for Boys & Girls Club youth and as a strong voice for all of our nation's young people.
The journey to being named National Youth of the Year begins locally and progresses to the state, regional and national levels. To achieve the title of Youth of the Year on any level, Club members must embody the values of leadership and service; academic excellence; and healthy lifestyles.
The Boys & Girls Clubs of Greater Washington process began with the selection of candidates to represent each of the Clubs. The successful candidates moved to the next level of competition, vying for the title of 2016 Greater Washington Youth of the Year.
Candidates attended workshops designed to enhance their interview and public speaking skills. "I love the young people I get to work with in the Youth of the Year program because the transformation and growth that I witness from September to the YOY Luncheon in late-February is absolutely amazing. To see them display the poise, self-confidence and commitment to the rigorous process exemplifies true character and leadership development.", said Theressa Green, Director of Character & Leadership Development/Teen Services for Greater Washington and oversees the Youth of the Year program.
On Saturday, February 20, on the campus of Georgetown University, eight candidates were interviewed by a panel of judges and delivered their speeches to an audience of family, friends and BGCGW staff. The judges had the very difficult task of selecting two Ambassadors and the 2016 Youth of the Year for the Greater Washington affiliate of the Boys & Girls Clubs of America.  This year's Youth of the Year Ambassadors are Derrick Almond representing the Hylton Branch and Kabyria Booker, from the Richard England Clubhouse #14.  The 2016 Greater Washington Youth of the Year was awarded to Faith Moore from the General Heiser Boys & Girls Club in Dumfries, VA. Join us in congratulating Faith Moore and all our YOY Ambassadors!