Thanks for Supporting the DC Region!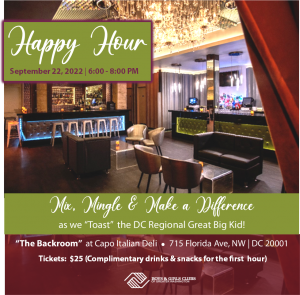 JOIN US AS WE "TOAST" OUR DC GREAT BIG KID (GBK) MENTOR!
WHAT IS GREAT BIG KID (GBK)?
A Mentoring program where adult mentors (Big Kids) are paired with mentees (youth Club members) to support them academically, socially and personally during the mentoring phase.  All six of the Boys & Girls Clubs of Greater Washington regions compete in a culminating event to name the "Greatest" Big Kid of 2022!
THE EVENT!
A kickoff celebration in support of our DC GBK Mentor, Dr. Alicia Jones.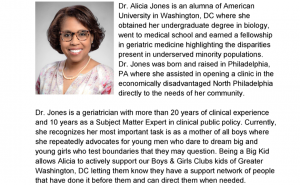 JOIN US!
Be a part of a fun evening with great people, great food, great drinks and a great cause!
Let's Mix, Mingle & Make a Difference!
TICKETS:  $25 (Complimentary drinks and snacks for the first hour)
READY TO PURCHASE?  PLEASE SEE FORM BELOW.
FOR MORE INFORMATION
Please contact Michael McDonald, mmcdonald@bgcgw.org.