"TALENTscape"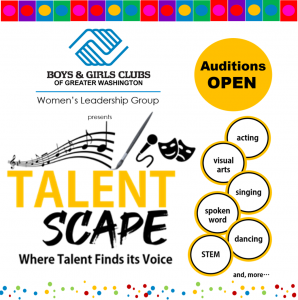 Are you a singer, dancer, actor, poet, musician or artist?  ALL talent is welcome!
"TalentScape", as the named implies, is designed to give our youth a platform to showcase their amazing range of talents including:
Performing Arts – From singing to dancing, to poetry to dramatic readings, to instruments to music making, all are welcomed.
Visual Arts – There will also be an opportunity for those with an interest in the visual artists to display their talents in the form of drawing, painting, digital art or photography
STEM – Individual or group projects are welcome
The culminating event, The TALENTscape Variety Show, will showcase in December 2021.  Performing Finalists will receive a medal and a $500 scholarship (funds will be split evenly among group act members).  Visual Arts and STEM Finalists will each receive a medal and a $100 scholarship.
Important Dates:
September 17, 2021:  Entry form and all audition submissions (videos, visual art and STEM outlines) are due
October 8, 2021:  Call backs will be announced
October 29, 2021:  Call back video re-submission due
November 5, 2021:  Finalist in each category announced
November 12 – December 3, 2021:  Zoom rehearsals/feedback sessions; Filming/editing/compilation of final video
December:  TALENTscape!
Be sure to check back for updates!
More Information:
TALENTscape Flyer
TALENTscape Brochure
TALENTscape Application Package
* Please send all entries and questions to Terri Johnson, tjohnson@bgcgw.org.
* NOTE:  You must be a BGCGW Club member to participate.