Club House @ Your House Summer Camp
Virtual Platform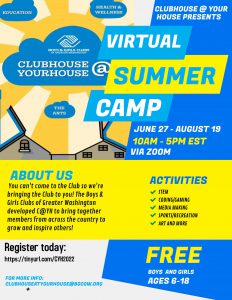 When COVID-19 forced us to shut our doors, we could not stop serving our members.  A small team of highly skilled and motivated Youth Development Professionals began working on ways to stay connected with our members during a time of social distance. BGCGW is still open and ready to serve young people with our new virtual programming space, Clubhouse @ Your House.  
We offer unique programming:
Focused on maintaining the social and emotional connection between our staff 

and our members.

​

Offered a diverse collection of programs and activities so every child can find 

activities they love to do.

​

Continued emphasis on academic support.

​

90% of programming is live.

​

We concentrate on developing a sense of belonging, usefulness, influence and 

competence for our members.