Jim Almond, Regional Vice President, Virginia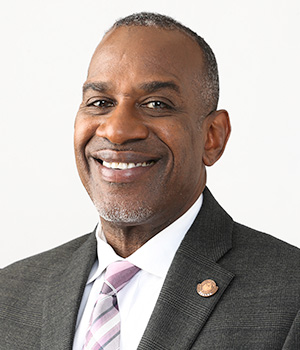 Jim Almond is an accomplished executive whose career includes service of his country as a US Army Officer. Mr. Almond began his career with the Boys & Girls Clubs in the summer of 1990. He started out as a part-time Teen Director in Norfolk, Virginia, with the Southside Boys & Girls Club. He became full-time after serving in that role for three months and served in the role for four years. In 1995, Jim received a promotion to Branch Director at the Virginia Beach Boys & Girls Club. There, he built the program from an Average Daily Attendance of 36 to an average of 80, which was capacity. He would be in this position for a total of five years.
Jim's next move was to Emporia, Virginia, where he started the Boys & Girls Clubs of Emporia / Greenville County as the founding Executive Director. Jim brought knowledge of the Boys & Girls Clubs to an area that had not previously heard of the Clubs. In addition, he was charged with forming a revenue generating Board of Directors and securing support for the programs and operations. Jim presided over the BGCEGC for two years.
Seeking an even bigger challenge, he applied for and became the Sr. Branch Director of the then Alexandria-Olympic Boys & Girls Club, which is a part of the Boys & Girls Clubs of Greater Washington; one of Boys & Girls Clubs of America's largest affiliates. Under Jim's leadership, the Alexandria Club went from a deficit of $65,000 to a surplus of $8,000 in his first year. This feat earned him the Employee of the Year Award, also known as the President's Award. After serving in this role for four years, Jim was promoted to a position that was created especially for him, Senior Regional Director. In this role, he was required to oversee two regions and manage two separate Boards of Directors. Jim stayed in this role for three years until he was promoted to the position of VP of Branch Operations.
Some of Mr. Almond's accomplishments during his 26-year career with Boys & Girls Clubs include:
Completion of the two-week Management Program, which is designed to further the growth of Youth Development Professionals deemed to have high potential as future leaders in the Boys & Girls Club Movement (1999)
Chosen as the Employee of the Year (President's Award) for Boys & Girls Clubs of Greater Washington (2001)
Completion of the Strom Thurmond Leadership Academy (2002)
Completion of the Advanced Certificate Leadership Program (2003)
Inducted into the Academy of Boys & Girls Clubs Professionals, which is one of the most prestigious awards BGCA bestows upon its staff (2005)
Inducted into the Southside Boys & Girls Club's Hall of Fame becoming the first Club staff member to receive this honor (2010)
Mr. Almond is a 1986 Graduate of St. Paul's College in Lawrenceville, Virginia, and is also a 1986 Graduate of the U.S. Army Armor Officer School in Fort Knox, Kentucky. He has two sons ages 18 and 15. He currently resides in Woodbridge, Virginia.