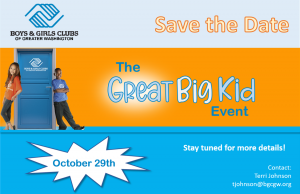 WHAT IS GREAT BIG KID (GBK)?
A Mentoring program where adult mentors (Big Kids) are paired with mentees (youth Club members) to support them academically, socially and personally during the mentoring phase.  The mentoring period is 6 weeks with a minimum of 1 interaction per week.
THE EVENT!
A celebration of the culmination of the 6-week mentoring program.  It's a fun, inspirational and life-changing experience…guaranteed!
LEARN HOW YOU CAN BECOME INVOLVED
Please contact:  Terri Johnson, tjohnson@bgcgw.org