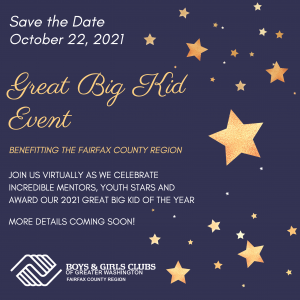 Kicking off and running through late August and early October, six mentors ("Big Kids") will be paired with designated Club youth ("Mentees") across our three Fairfax regional Clubs  to serve as role models. Supporting the mentees academically, socially and personally during the mentoring phase, each Big Kid will be asked to share the great things Boys & Girls Clubs are doing for our youth — with their circle of family, friends, and colleagues — to raise funds for continued  programming.
The culmination of the GBK Campaign will be Boys & Girls Clubs of Greater Washington's Fairfax County signature event, being held virtually on Friday October 22, 2021. Not only will we celebrate and award the title of "The Great Big Kid of the Year" to the Big Kid that raises the most funds, but you will also be a part of an evening filled with inspiring stories and encouraging experiences.
For more information contact Nadia Pedersen, npedersen@bgcgw.org.
To learn more about sponsorship opportunities click here.
Ready to purchase tickets?