Welcome Prince George's County Public School Families!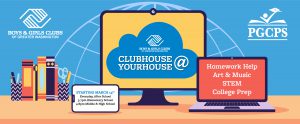 Register Today for Clubhouse@ Your House, a NEW Interactive, Virtual Afterschool Program hosted by Boys & Girls Clubs of Greater Washington

To join this FREE program, CLICK the link below and follow the instructions on this page to create an account and to register your child(ren) as an official Boys & Girls Club member!
https://bgcgw.force.com/portal/s/
STEP-BY-STEP INSTRUCTIONS:
1. Click on NEED A LOGIN
2. Complete required information then SUBMIT
3. Check your email for link to create a individualized password
4. Log back into parent portal (using the URL link above)
For Spanish translation of membership form, use "Google Translate"
A. Right click anywhere on the page on the form
B. In the pop up menu, choose 'translate to English'
C. An icon or message will appear in the browser URL, click on the icon to choose your preferred language
5. Click on BROWSE MEMBERSHIPS
6. Choose your child's school site and SAVE location
7. Click on your Club's Annual Membership ($0.00 dollars will be charged)
8. Choose your membership type by age group
("Youth" [age group 6 – 12]  //or//  "Teen" [ages 13 -18] )
9. Click CREATE NEW CONTACT
10. Enter child's information, save and select child, click NEXT
11. Enter Member/Household Information, Click FINISH
(There will be another page following this page, you will need to click a 2nd FINISH button in order to complete the entire registration process)
12. To add additional child(ren): Go back and simply repeat steps 5 – 11 for additional child(ren)
Congratulations, you are registered!
A Boys & Girls Clubs of Greater Washington representative will email you with parent orientation information and/or a link for getting started with Boys & Girls Clubs' Clubhouse@ Your House!
Need Assistance:  Phone: 202-510-4022  //or//  Email:  mch@bgcgw.org
_________________________________________
INSTRUCCIONES
_________________________________________
¡Bienvenida a las familias de las Escuelas Públicas del Condado de Prince George!
¡Haga clic en el siguiente enlace y siga las instrucciones para crear una cuenta e inscribir a su(s) hijo(s) como miembros del Boys & Girls Club!
https://bgcgw.force.com/portal/s/
INSTRUCCIONES PASO A PASO:
1. Haga clic en NEED A LOGIN (necesito acceso).
2. Complete toda la información requerida y presione SUBMIT (enviar).
3. Revise su correo electrónico y busque el enlace para crear su contraseña personal.
4. Ingrese de nuevo al portal de padres (usando el enlace de URL anterior).

Para ver la traducción al español del formulario de membresía, use "Google Translate"
A. Haga clic en el botón derecho en cualquier parte de la página del formulario.
B. En el menú desplegable, seleccione 'translate to English' (traducir al inglés).
C. Aparecerá un icono o mensaje en el URL del navegador, haga clic en el icono para elegir su idioma preferido.
5. Haga clic en BROWSE MEMBERSHIPS (explorar membresías).
6. Elija la escuela de su hijo y GUARDE el lugar.
7. Haga clic en su membresía del Club anual (se cobrará $0.00 dólares).
8. Elija su tipo de membresía por grupo de edad
("Youth" [edades de 6 a 12 años] O "Teen" [edades de 13 a 18 años]).
9. Haga clic en CREATE NEW CONTACT (crear nuevo contacto).
10. Escriba la información de su hijo, guarde y seleccione hijo, haga clic en NEXT (siguiente)
11. Escriba la información del miembro/hogar, haga clic en FINISH (guardar)
(Habrá otra página después de esta página, tendrá que hacer clic en un segundo botón de FINISH para completar el proceso entero de inscripción).
12.Para añadir a otro(s) hijo(s): regrese y repita los pasos 5 a 11 para niños adicionales.

¡Felicitaciones, está inscrito!
Un representante de los Boys & Girls Clubs of Greater Washington le enviará un correo electrónico con información sobre la orientación para los padres y/o un enlace para empezar con el Clubhouse@ Your House de Boys & Girls Clubs.
Necesita ayuda:
Teléfono: 202-510-4022  /  Correo electrónico:  mch@bgcgw.org